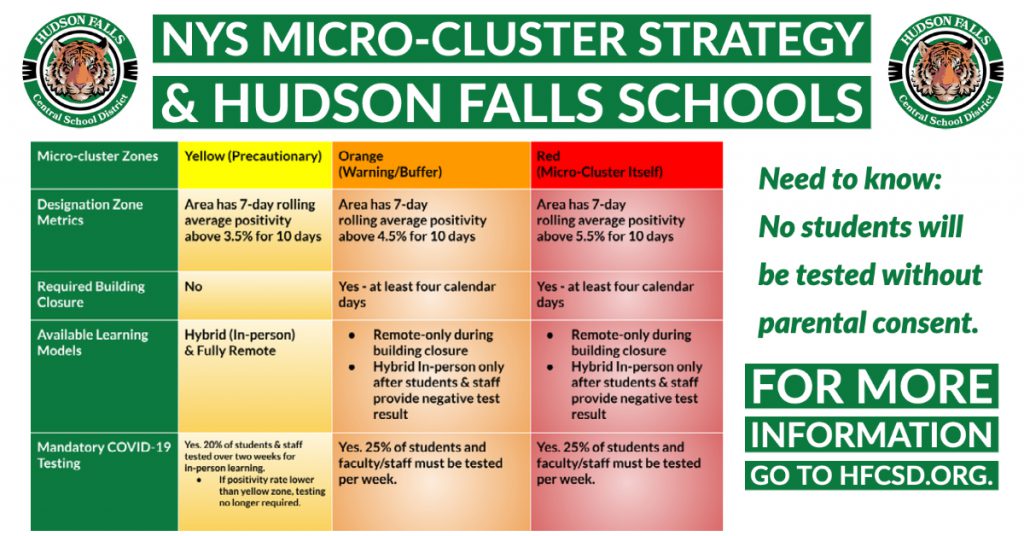 Dear Tiger Community,
We are learning more every day about Governor Andrew Cuomo's New York Cluster Action Initiative to aggressively respond to outbreaks of new COVID-19 cases within a small geographic region. Each county has individualized metrics to enter a yellow, orange, or red zone. Each zone has implications for in-person and remote learning.
To be designated as a yellow zone:
Washington County's seven-day infection rate must be 3.5% or higher for 10 consecutive days;

Currently, Washington County's current seven-day infection rate is 1.1%.
AND
Washington County's seven-day average of new positives must be 10 or more;

Washington County's average is currently 4.4.
We are not presenting you with this information to alarm you. Even though our district is far from reaching the criteria to be designated in the yellow zone, we are actively preparing for in-school testing should we reach the yellow zone threshold described above.
Our goal all year has been to maximize the number of student learning days and the number of students safely learning in our buildings. We know how invaluable it is to our school community to remain open for in-person instruction.
In the event our area is designated a yellow zone, Department of Health (DOH) guidance requires that schools test 20% of in-person students, teachers, and staff over a two-week period in order to remain open for in-person instruction. If our positivity rate is lower than the yellow zone, testing at the school would no longer be required to continue.
We are working with our partners at the Washington County Health Department to ensure that we provide the best learning environment we possibly can during this unprecedented school year. And we will continue to be transparent with our school community about the challenges this year brings.
Sincerely,
Dr. Jon Hunter, Interim Superintendent of Schools