Happy Friday Tiger Family,
We welcome the final month of the school year beaming with #HFTigerPride. A busy schedule awaits the students as field trips, assemblies and yearbooks fill the calendar and give students a chance to celebrate the end of the school year.  
Tuesday, the High School Science Symposium showcased our science research program. Student presentations backed by years of hard work and research, was another example of the amazing students that walk our halls. Safe travels to our Seniors who make their trip to Boston on June 10, kicking off the countdown to graduation on June 25.   
Our Middle School is excited for the return of the 8th grade Moving Up Ceremony, June 7 at 6 p.m. in the High School auditorium. Thank you to the Middle School PTSO for sponsoring the event, welcoming our next batch of freshmen to the high school. 
Tiger talent was on display at our spring concerts having already heard the sounds of the High School Choir, Middle School Orchestra, HS Band and HS Orchestra. The MS band and MS choir concerts held this Thursday evening were well attended and our students staged a wonderful performance. Tonight, is the middle school semi-formal dance and we all wish the 7th and 8th graders a fun and safe evening.
The full schedule of HFCSD summer recreation programs have been announced. Registration for these programs will close on June 10. Please take a close look at the slate of options available, with programs for students entering kindergarten all the way through grade 12. You will also be able to find information and hours for the Community Pool, as well as Community Nights at the all new Derby Park. Speaking of Derby Park we invite everyone to check out the Grand Opening of the park on Saturday, June 18 with ribbon cutting at 11am and activities running all day long.
Lastly, our local community offers many opportunities for families. While these next few weeks have many school-based events, I encourage you to take a look at the June activities offered by:
Sincerely, 
Dan Ward, Superintendent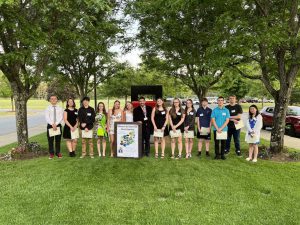 Student presenters at the Science Symposium.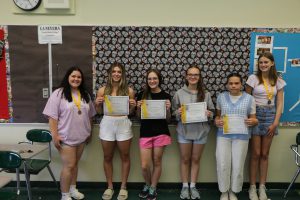 Middle School Spanish students who completed their first step in achieving their Seal of Bi-literacy, along with Riley and Lauren on the ends who just achieved their Seal.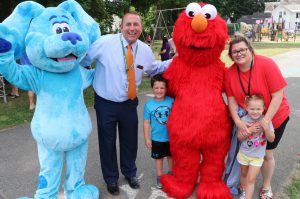 Mr. Ward with special guests at the Pre-K carnival.